---
Can You Make a Profit Offering Online Groceries?
- Dec. 12, 2016
Making Grocery E-commerce Profitable?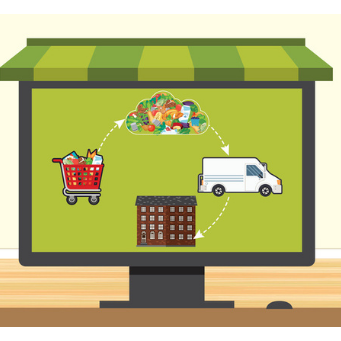 As the tech industry and traditional grocery store brands flock to online groceries, this is the critical question to ask.  Historically online grocery sales have represented only 1% of sales in Canada, which is not a lot considering many online grocery retailers have been doing it for the better part of a decade.  Several of our customers were among these early adopters of online for groceries.  This year online sales are expected to double to 2% with many analysts projecting we will hit the 20% level over the next five years.  The US and Canada follows similar trends.
Some analysts have estimated that Amazon has 50% the US market share.  With brands such as Walmart reducing capital expenditure on new store expansion so as to focus on developing their online business, some predict the online grocery landscape will be dominated by the large multi-nationals.  We disagree, as we believe local independent regional grocery store operators are best positioned to deliver what consumers want.  Consumers rally behind producers of local, wholesome, natural foods that are flavourful and nutritional.  These shoppers are buying locally and more often, favouring the independent grocers over the large country wide chains.
Mighty Oaks, has been working with grocers to establish their online presence since 2004.  We have seen the good, bad and ugly!  The reality is online could be a prohibitively expensive delivery channel unless done correctly.  What are the key factors that need to be considered to make online profitable? 
The consumer experience
The online consumer experience must engage, delight and satisfy as the consumers move across channels seamlessly as part of the brand experience.  Establishing that brand identity involves developing both the instore and out-of-store customer experience and a key component of this is the online presence. The consumer will interact on social media, search online, research, read reviews, experience store advertising, engage with call centres, visit the bricks and mortar store before finally purchasing. A good online presence will ensure that these needs of the customers are met and the chain provides the convenience of purchasing instore or online.  It is these very omni-channel shoppers that the grocer should be attracting as preferred customers as on average, they are likely to spend more than 2 time the instore only shopper.
Omni-channel for the customer starts by ensuring that their online and instore experience are the same. That means the same products and pricing across all channels.  That can only be achieved by tight integration between the instore POS or ERP solution with the online solution.  We achieve this through connectors that tie the APIs of both systems together.
In the longer term, we believe cognitive computing will play a significant role tailoring and managing that consumer experience and that these online solutions should help the consumer by augmenting their decision making processes.
Operations
The levels of efficiency must be monitored, managed and continuously improvement to ensure that order fulfilment is achieved at the desired cost. That involves optimising the picking process to reduce the labour costs.  We can only achieve this by having the online software understand the store layout and manage that part of the fulfillment. 
The First and Last Mile Problem
Let's face it, delivery is expensive, especially to multiple residential address with perishable goods, such as groceries.  Click-and-Collect offer many advantages over time consuming direct delivery to homes. A Click-and-Collect network of refrigerated lockers, located at the stores and remote sites, provide the customer with the ultimate in collection time and location convenience. This greatly simplifies the delivery process and becomes critical to ensuring cost effective delivery.  That is the reason we created OMNION (our sister company) dedicated to supplying the highest quality refrigerated lockers in the North American market. These refrigerated lockers, included as part of MightyExpress are integrated with MightyCart to form our flagship platform Might+.  
Change Management
One of the surprises that comes from helping independent grocers move to online is how many parts of the organisation needs to adjust to the new delivery channel.  Unlike other technologies that generally only apply to a small part of the organisation, the adoption of online technology touches nearly every part of the organisation.  Managing the change to a new distribution channel needs to be carefully executed.
The same applied to existing technology.  We have integrated our online solutions with enterprise ERP solutions, such as SAP, as well as POS for smaller retailers.  In many cases we are integrating with legacy systems that have been in operation for nearly a decade with minimal changes.  A great deal of care is needed to ensure an effective integration. 
Evolution
The evolution of technology is accelerating as new entrants and major retailors backed by substantial development teams enter the market.  To be a successful omni-channel platform, it is crucial that the Mighty+ e-commerce solution is architected to evolve with the future trends expected in the market place, ensuring that the grocery chains we serve, continue to remain competitive. This is extremely difficult to achieve with the traditional in-house development practices, making our white label solution more cost effective than and better than the in-house solutions. 
Conclusion
To make online grocery stores effective and efficient, it involves a systematic approach to addressing store operations, workflow, delivery and technology.  The need for efficiency cannot be under estimated and is one of the most critical factors in making online cost competitive. Getting back to our original question on profitability, that answer is: Yes, with care it is possible to create a profitable omni-channel grocery e-commerce solution.