---
Launch of Real-Time Agent
- Oct. 10, 2002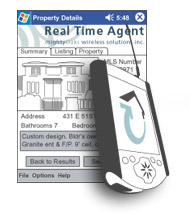 RealTime Agent is what it says - a high-performance application that gives you, the Agent, real time access to MLS data including pictures, agent contact information, an all other listing data. What makes this even sweeter - it comes to you from a hand held device such as the HP Jornada and the Compaq iPAQ. That's right - remote rapid access to all the data you need to keep an edge on the competition, in the palm of your hand. It will change the way you run your business, and you'll never want to look back.
In developing RealTime Agent we have worked with Real Estate boards throughout western Canada;•Our technology provides several key strategic benefits to realtors. It saves them time and money traveling to and from the office to collect data. Time is the realtor's most scarce resource. It provides an improved service to their customers and an elevation in perception of their service.
Mighty Oaks has signed contracts with several key suppliers includ-ing: Manitoba Telephone Systems (MTS), The Winnipeg Real Estate Board, National Leasing, HandHeld Canada Inc, and Compusmart Canada. to provide realtors with a fully integrated solution.  
RealTime Agent was launched by way of a presentation to approximately 250 Realtors at The Winnipeg Real Estate Board's Technology symposium on September 9, 2002 and to a group of approximately 15 Brandon Realtors at the Brandon Real Estate Board the next day. Within five business days, the Company had signed almost 2% of all Realtors to three-year licensing and data airtime contracts.
See Winnipeg Free Press Sept 10, 2002 for a complete write up.  page B3, B5. for recent press coverage.