---
Event - Bridging the Gap Nov 13-14, 2015
- Nov. 13, 2015
Bridging the Gap
Through Technology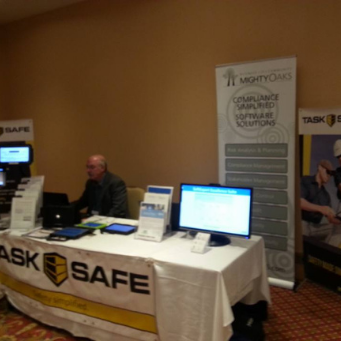 Abstract
With our partners SoftExpert and Western Industrial Solutions from Kelowna we are exibiting at WorkSafeBC - Bridging the Gap.   
Whether you work in construction or promote health and safety in the industry, join us for a jam-packed two-day conference to network with others and increase your knowledge about a wide range of health and safety issues in construction.  Join us at this event to network with peers while learning about and discussing a variety of health and safety issues. Search out, expand, and capitalize on learning opportunities that will ultimately enhance your career in health and safety.
At the WorkSafe Bridging The Gap conference we were invited to co-exhibit with TasKSafe.  TaskSafe is a great company out of interior that has a tablet application that empowers workers  to automate safety programs in the field and bring that information into secure cloud infrastructure.  Form there we can take the data using our SoftExpert and perform root cause analysis, derive KPI, track non-conformances and drive systematic structural improvements to the safety program in the enterprise.  Cool stuff. 
It is always great to see how technology can make a positive impact on peoples lives.  In this case helping to create safe workplaces. Glad to partner with Western Industrial Solutions in Integrating their Task Safe product into SoftExpert on the Mighty Oaks Cloud.
Event Details:
   Bridging The Gap
   November 13-14, 2015,   

   Sheraton Vancouver Airport
   Richmond, BC   
Details on the event from  http://www.bridgingthegapsafely.com/
Together with Western Industrial Solutions, SoftExpert, Mighty Oaks will also be exhibiting.